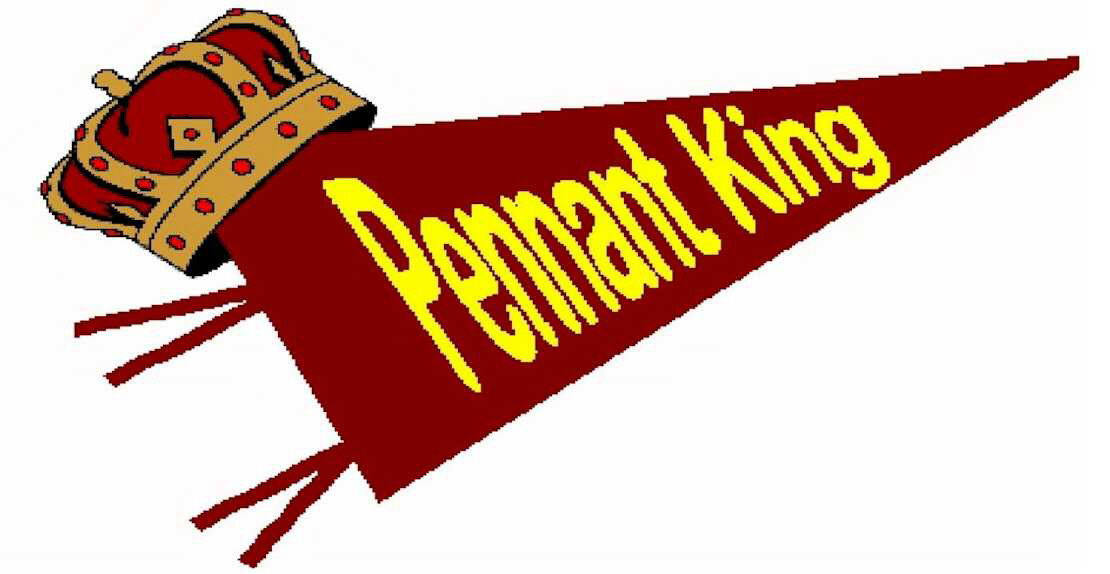 Thank You For Your Support!


We have been trading in sports pennants for over 15 years.
We started as collectors and remain collectors at heart.



WE ARE ALWAYS BUYING - SEND US YOUR SELL LIST

We currently have thousands of pennants in stock dating from the vintage to the present. If you do not see what you are interested in please let us know exactly what you are looking for. We have access to thousands of pennants that aren't listed in our catalog and have new products in all the time. We will keep your want list on file and contact you if we find what you are looking for. If you get our answering machine, just leave us a detailed message including name, phone number, and the item numbers for those pennants you are interested in. Your call will be returned as soon as possible. We are most likely at the hunting grounds looking for treasures! You can email us just by double clicking on the icon at the bottom of the page.

PAYMENTS ACCEPTED
Personal Checks

Cashiers Checks

Money Orders

Credit Cards (Can only be processed through Paypal and Bidpay)

http://www.bidpay.com

www.paypal.com My paypal account is dave@pennantking.com

U.S. Funds Only

Please allow time for personal checks of first time customers to clear.
We do not recommend sending cash as payment for your order, as there is no guarantee it will make it here.
We guarantee your satisfaction on all in-stock merchandise. If we special order something for you we will make every effort to assure it is what you want prior to your making payment. Special orders are final unless otherwise stated. If you receive an in-stock item and you are unhappy with it, we will accept your return within 10 business days with prior authorization. If an item is returned without prior authorization, damaged, or in a condition other that that shipped, no credit will be issued. All orders will be shipped via Priority Mail Flat unless otherwise requested. I am proud to say we have never had an item returned!
U.S. SHIPPING FEES:
Pennants (shipped priority mail flat)
| | |
| --- | --- |
| 1 - 6 | 7 - 11 |
| 12 & Over | |
Photos: (shipped regular mail)
1 - 5 8 x 10

$2.50

6 - 10 8 x 10

$4.00
International Orders & Misc items
Contact us directly for applicable shipping rates at dave@pennantking.com

I highly recommend insurance as we are not responsible for lost stolen or damaged merchandise.
Insurance:

| | |
| --- | --- |
| $50 or less | $1.30 |
| $50 - $100 | $2.30 |
| $101 - $200 | $3.30 |
| $301 - $400 | $5.30 |
| $401 - $500 | $6.30 |
| $501 - $600 | $7.30 |
| $601 - $700 | $8.30 |
| $701 - $800 | $9.30 |
Prices are subject to change without notice and on a first come first serve basis. It is best to contact us prior to sending payment to confirm availability. We will attempt to keep our catalog and web page as updated as possible. Tell your friends about us and continue to enjoy the most unexploited collectible in the industry. Feel free to ask questions!

Our Condition Grading System
Pennants are assigned condition grades using the same grading system
utilized to grade Sports Cards. The levels are as follows:
| | | | |
| --- | --- | --- | --- |
| 1. | Gem Mint (Extremely Rare) | 5. | Excellent |
| 2. | Mint (Rare) | 6. | Very Good |
| 3. | Near Mint | 7. | Good |
| 4. | Excellent Mint | 8. | Fair - Poor (Pretty Sad Condition) |